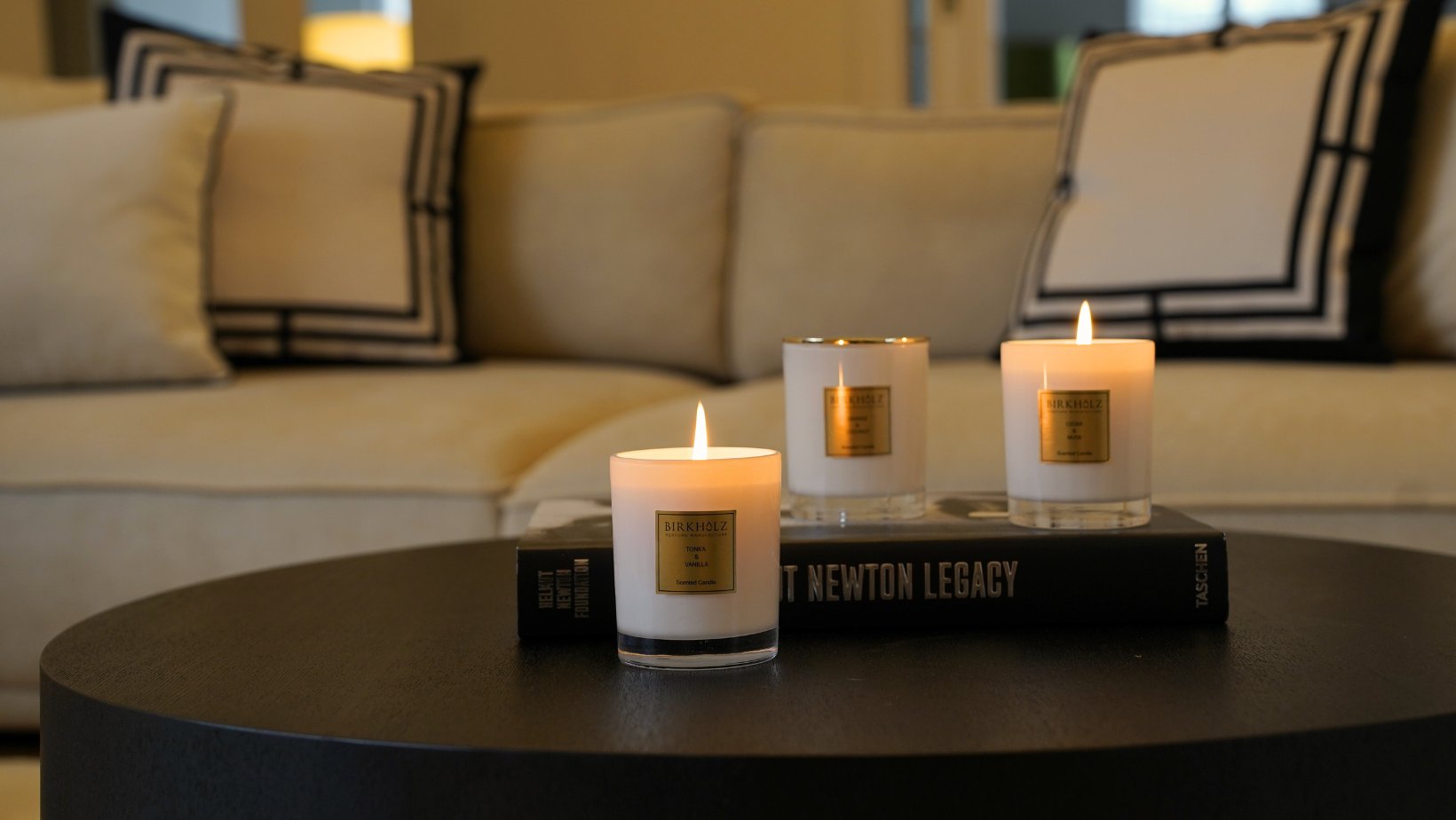 Eine Duftkerze im Glas verleiht Ihrem Raum nicht nur eine besonders gemütliche oder auch romantische Atmosphäre, sondern sorgt auch für einen wohligen Duft, der jede Menge Entspannung bietet und die Sinne verzaubert. Mit den Duftkerzen von Birkholz können Sie Ihrem Raum eine persönliche Note verleihen und besondere Momente erschaffen. Dabei passen sich die unterschiedlichen Duftnoten ganz Ihrem individuellen Geschmack an.
Die Wahl der passenden Duftkerze ist natürlich eine Frage des persönlichen Geschmacks. Bei Birkholz finden Sie Duftkerzen mit zahlreichen unterschiedlichen Duftnoten, die von klassischen Düften über holzige bis hin zu blumigen Noten reichen. Zusätzlich sollten Sie bei Kerzen aber auch immer auf eine besonders hohe Qualität achten, insbesondere in Bezug auf das verwendete Wachs. Bei unseren Kerzen setzen wir auf hochwertiges Sojawachs, welches gesundheitlich unbedenklich ist und besonders lange hält. 
Bei Duftkerzen sollten Sie besonders auf die Qualität des Produkts achten. Gerade billige Kerzen werden häufig aus dem günstigen Material Paraffin hergestellt, welches beim Verbrennen schädliche Stoffe freisetzen kann. Aus diesem Grund setzen wir bei der Herstellung unserer Duftkerzen auf Sojawachs. Dieses ist nicht nur gesundheitlich unbedenklich, sondern sorgt ebenso dafür, dass die Kerze länger brennt. Auch für die Umwelt sind Duftkerzen aus Soja die bessere Wahl.
Da unsere Kerzen aus hochwertigem Sojawachs hergestellt werden, brennen sie besonders lange. So können Sie bei unseren 200g Kerzen mit einer Brenndauer von etwa 40 bis 45 Stunden rechnen, sodass Sie sich besonders lange am einzigartigen Raumduft unserer Duftkerzen im Glas erfreuen können. Je nach Größe der Kerze kann die Brenndauer entsprechend variieren.
Duftkerzen im Glas von Birkholz
Besondere Duftmomente erleben
Unsere Duftnuancen sind so vielfältig, wie Sie es sind. So finden Sie in unserem Sortiment immer die passende Duftrichtung für Ihren Geschmack. Mögen Sie es zum Beispiel gerne frisch, mit einem Hauch an Schärfe, ist unsere Duftkerze mit Lavendel und Bergamotte eine besonders gute Wahl. Für einzigartig blumige Düfte sorgt hingegen  unsere Kerze mit Tuberose und Sandelholz, während unsere Kerzen mit Ambra und Rose Ihrem Raum eine mysteriöse Stimmung verleihen. Ganz egal, welches Aroma Sie bevorzugen, bei uns finden Sie ohne Zweifel immer die passenden Duftkerzen im Glas, um Ihrem Zuhause das gewisse Extra zu verleihen.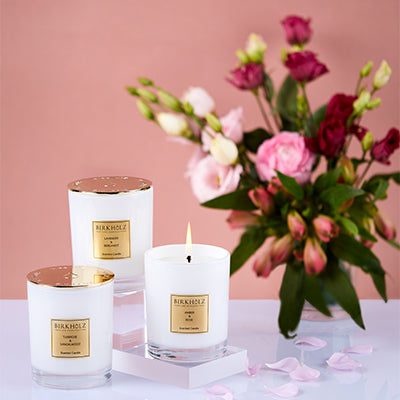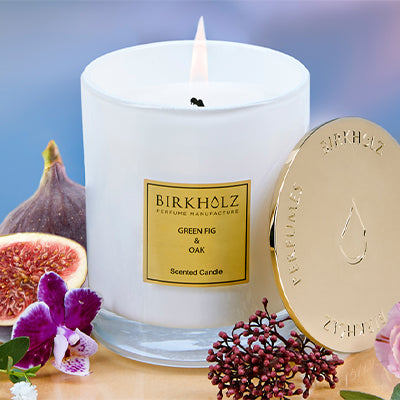 Hochwertige Duftnuancen für Ihr Zuhause
Bei unseren Duftkerzen legen wir ebenso viel Wert auf die Qualität wie bei unseren anderen Duftkreationen. Das zeigt sich unter anderem in den vielseitigen Noten und Nuancen, die unsere Düfte bieten. Ebenso wie bei unserem Parfum erwartet Sie auch bei unseren Duftkerzen ein Dufterlebnis aus einer Kopf-, Herz- und Basisnote, welches Ihre Sinne umschmeichelt und nach und nach seine volle Wirkung entfaltet. So können Sie sich bei unseren Kerzen auf einzigartige Raumdüfte freuen, die nicht nur ein einzigartiges und vielseitiges Aroma bieten, sondern auch eine besondere Atmosphäre und unvergessliche Momente schaffen.
Let customers speak for us
Wonderful spring fragrance
Smells wonderful and long like spring in the sunshine, intense and special, not mass-produced.
First Spring
Black Collection Atomizer 3ml
Black Collection Atomizer 3ml
Prince Khanna
03/27/2 022
Item Personalization
Birk wood sample set
I received a sample box put together with love. I am very satisfied, the shipping was very quick, the packaging with attention to detail and the opportunity to put together different fragrances to try.
Romy Schmidt
Woody Collection Atomizer 3ml
Perfect fragrances
I am perfect convinced of the scents and I will order again!
Philip Birkholz sommelier set
Philip Birkholz Sommelier Set
Everything is fine
Fast shipping, top service, perfect selection of fragrances. What more does a man want?
Classic Collection Atomizer 3ml
Tollés perfume
A special gift for my partner, he was very happy. It smells amazing
Iris N' Wood
Great scents and great handling :)
I will definitely order there again. The scents are very high quality and long lasting.
Body Mist Forest Fantasy 100ml
Ulrike Hövelmann
03/04/2022
Atomizer 7.5ml
Valentine's Box
Very nice fragrances I am satisfied
Item Personalization
Very pleasant
Well, I personally think the scent is really outstanding
Even friends of mine who normally don't like Oudh are enthusiastic about it and find it very pleasant
Iconic Oud 100ml
Super
Very pleasant, selected beautiful fragrances, plus super friendly service! !!
Woody Collection Atomizer 3ml
Can't give a more detailed rating, I gave the perfume away.
Woody Collection Atomizer 3ml
.